Dentures
Custom Dentures In Columbus, OH
Dentures are a wonderful tooth replacement option for patients that are missing all of their teeth and may not be candidates for dental implants. Merion Village Dental provides both complete, also known as full, dentures and partial dentures to suit the custom needs of every patient.
How Dentures Work
Did you know that complete dentures do more than replace teeth? Well-fitting dentures also:
Improve your facial profile
Boost your self-confidence
Eliminate malabsorption/digestive problems
Improve speech difficulties due to missing teeth
Complete Denture Placements Can Change Your Life
Complete denture placements is an easy procedure at Merion Village Dental. Our dentists are trained to select an immediate denture or traditional denture based on your unique needs. Immediate dentures are placed the same day that any teeth are extracted and re-lined after full healing has been achieved. Traditional dentures are dentures that are delivered after healing has been achieved, or to replace an old set of dentures.
If you're considering dentures – complete or partial – contact Merion Village Dental today.
Before & After Photos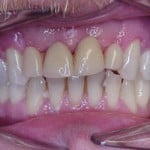 Before new partial denture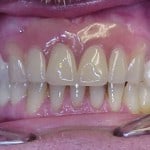 After new partial denture
We create custom dentures to help you smile with confidence again!
You shouldn't have to suffer through meals or social events due to missing teeth. If you've had problems with problematic dentures or missing teeth, we invite you to visit Merion Village Dental and gain control over your smile! Our custom denture treatments will bring your smile back.