Jaw Pain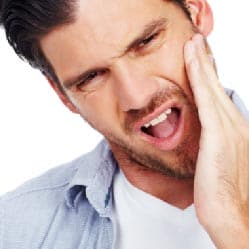 At Merion Village Dental, we can pinpoint the cause of that annoying pain in your jaw known as TMJ or TMD.
With digital technology and gentle examination, we will determine the location of the pain and provide therapy and treatment options custom suited to your unique situation.
Do you wonder if your jaw pain could be caused by TMJ or TMD? Most common symptoms include:
Limited ability to open your mouth
A jaw that locks in place when talking or moving your mouth
Difficulty chewing while eating
A stiff neck combined with migraines
Tooth damage that is caused by excessive where from a misaligned jaw
Not all jaw pain is created equal.
Sometimes, chronic jaw pain may be related to more common issues – such as grinding your teeth at night while you sleep or when you are nervous. Our dental team will get to the source of your jaw pain so that we can create a treatment plan custom tailored to you, making sure that you are well informed of your diagnosis and treatment at each step!
You don't have to continue living in pain!
If you suffer from jaw pain that keeps you up at night and leaves you feeling sore and tense throughout the day, it's time to contact Merion Village Dental. Chat with a member of our team right now to set up your appointment in just a few minutes!