Dentures or Implants – What Is Best for Me?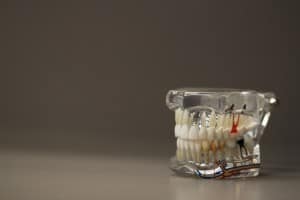 Did you know that about 70% of Americans between the ages of 35-44 have at least one missing tooth? With that in mind, there is nothing to be ashamed about when it comes to having a missing tooth or two. You should, however, take actions to replace your missing teeth to prevent further oral complications.
When determining the best solution for your missing tooth or teeth, you should take time and forethought before making a decision. Both dentures and dental implants offer permanent results and while your dentist should ultimately help you make your decision, it is helpful to learn as much as you can ahead of time. Here's what you should know about dentures versus implants.
Teeth Replacement Options
Depending on your overall oral health and the condition of your jaw and adjacent teeth, replacing a missing tooth is usually done one of two ways:
Dentures: Removable platforms to replace one or more missing teeth

Dentures are removable and can be partial or complete. As their names suggest, partial replaces some teeth, whereas complete replaces all of the teeth

Dental implants: Implants permanently replace a missing tooth

In this procedure, a titanium post is secured to your jawbone, which is then used to anchor a replacement tooth
What You Should Know About Each Procedure
No matter what procedure is determined to be best for your unique situation, it is best to be informed about your options. Here are some things that you should know about each method of tooth replacement:
Dentures are often a faster solution – they can be put in place shortly after a damaged tooth is removed. However, if teeth need to be removed, your gums must heal prior to the dentures being placed.
However, dentures also carry the risk of slipping while eating or speaking, which some may find embarrassing. Eating can also feel strange for some until they get used to their new dentures.
One of the most appealing aspects of dental implants is their longevity – with the right care and regular dental checkups, an implant can last 20 years or longer. They are also considered to be better for your jaw.
"The screw in your jawbone will trick the body into thinking you still have teeth," AAOMS president Dr. Ira Cheifetz tells the New York Times. "The bone continues to grow and thrive."
It is important to know that Implants may not be possible under some conditions, like having gum disease or lacking the bone density to support the implant.
Making Your Decision
Determining which solution is best for your unique situation is ultimately a decision you should make with your dentist. Our medical staff is happy to give you a complete examination and provide advice based on your smile's unique needs.
You can schedule a consultation online or by calling 614-443-4400.
Recent Posts
Archives
Categories