Traditional Braces: More Comfortable and Sleeker Than Ever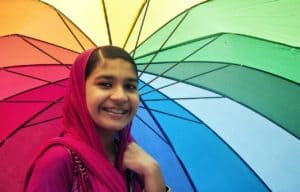 No teen looks forward to the thought of getting braces. But like many other dental techniques and technology, the method and materials used in traditional braces have improved by leaps and bounds over the years.
In place of the clunky headgear of just a few decades' past, today's traditional braces are sleek, comfortable, and more discreet than ever. And if you are considering teeth straightening options for your child (or yourself), they're worth a closer look.
What are Traditional Braces?
Braces are traditionally used to straighten teeth that are crooked, or to correct a bite that is misaligned. An orthodontist affixes corrective pieces like brackets, wires, spacers, and rubber bands that create tension to bring the teeth into a proper alignment.
Depending on the wearer's teeth, these appliances may be removable or permanent. Braces usually take between one to three years to straighten teeth, and are followed with the use of a retainer.
While most kids who need braces get them between the ages of 10 and 14—when the mouth and head are still developing—older teens and even adults are also eligible for traditional braces. We recommend orthodontic evaluations for children beginning at age 6 so we can provide your child with an individualized orthodontic treatment plan.
How Traditional Braces Work
Once a dental professional has installed traditional braces, the wearer comes in approximately once a month to make sure the bracket pressure is steady, and in the proper direction. To bring teeth into the correct alignment, the dentist will make slight adjustments to the wires and rubber bands as the treatment continues.
Why You Would Choose Traditional Braces over Clear Aligner Therapy
While some dentists may recommend Invisalign, Clear Correct, or other removable systems, traditional braces are still the most effective technique for straightening teeth. As such, traditional braces are recommended for more severe or complicated cases.
Why Merion Village Dental is the Best Choice for Treatment
At Merion Village Dental, our team of professionals is happy to go over your options and help determine the treatment that's best for you or your child.
Your first appointment will include a consultation, which includes taking an impression of your teeth. We then present you with details on your treatment plan, so you can see how the process will progress.
Traditional braces have come a long way since you were a kid. Contact our office today to get started on the faster, more comfortable road to straighter teeth.
Recent Posts
Archives
Categories