Dr. Justin Gorr
Associate Dentist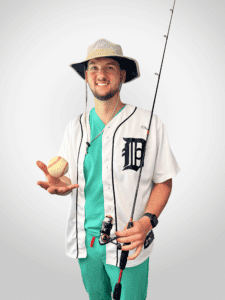 Favorite Quote:
"You've got to get comfortable with being uncomfortable if you want to be successful" - Steve Harvey
Interests:
Dr. Justin Gorr was born and raised in Bay City, Michigan. He grew up playing baseball where he won 4 state championships and was named an Academic All-American at Triton College in Illinois. He transferred to Central Michigan University to finish his Bachelor's degree of Biomedical Sciences and graduated from the University of Louisville School of Dentistry for his Doctorate of Dental Medicine.
Dr. Gorr shares his passion for dentistry by understanding his patients on a personal level and educating them on the importance of oral hygiene. He prioritizes providing outstanding patient care and creating positive experiences in a comfortable and welcoming environment. Outside of daily practice, Dr. Gorr actively participates in providing patient care to underserved populations, most recently traveling to Loja, Ecuador.
Outside of dentistry, Dr. Gorr likes to spend his time enjoying the sun through fishing, golfing and hiking. He stays in touch with his friends through video games and is an avid sports fan. Keep your eye out for him at the Blue Jackets, Clippers and Crew games.
Our Doctors

Our Hygienists

Our Dental Assistants

Our Business Team