6 Tips for Dental Care at Home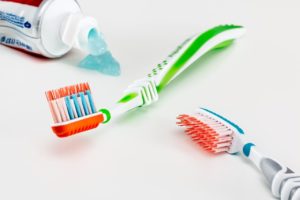 The Simple Things You Can Do to Keep That Smile Bright & Healthy
Taking proactive steps to take care of your smiles is one of the best things you can do for yourself and your oral health. While nothing beats your bi-annual trip to the dentist, there are some at-home measures you can take to ensure your oral health is top-notch. 
1) Brush Your Teeth Twice a Day
We've said it before – and we'll say it again. Don't forget to brush your teeth not once, but twice a day! When it comes to brushing, it shouldn't become a lackadaisical activity. Brush with intention, and remember that it takes about two minutes to get a thorough brushing. 
Using the proper equipment and technique will play a key factor in your daily brushing. If you are uncertain about the proper technique, reach out to your doctor or hygienist today. They will be happy to go over best hygiene practices with you!
2) Be Smart with Your Choice of Toothpaste
Believe it or not, there can be a big difference between kinds of toothpaste and how they help to keep your mouth healthy. Fluoride is a very important factor that we recommend not skipping out on when it comes to toothpaste. Making sure your toothpaste contains fluoride will help prevent tooth decay (cavities).
3) Don't Forget to Floss
Flossing is your friend because it is able to remove the bacteria in between your teeth and below your gum line that your toothbrush might not be able to reach. Be gentle with yourself and remember to just take it one tooth at a time!
4) Choose Water Over Sugary Drinks
When you're thirsty, water is always the best option! While you're staying hydrated, you're also providing your mouth with a natural cleanser. We all love our coffee and soda, but the lasting impact on your teeth can include cavities and staining. If you do opt for one of these options, it is better to drink it all quickly instead of making it last across the day. This way, your teeth receive the least amount of exposure. 
If you do experience staining from liquids like soda, red wine and coffee, we can help! Ask your hygienist about our Brighten for Life Program featuring Opalescence Go. 
5) Think Healthy When Choosing Snacks
Tooth decay can be very preventable when you choose the right snacks! The less sugar you have, the better off your teeth will be. Dr. Lauer suggests choosing snacks like carrots, apples, cheese, yogurt and plain nuts. The crunch texture of carrots and apples can give your teeth an extra brush. Snacks that are rich in calcium and phosphorus can also help repair tooth enamel!
Of course, we will never tell you not to enjoy your favorite treats. We just encourage you to never ignore tips #1 and #3 and take care of your teeth after treating yourself! 
6) Don't Skip on Your Dental Appointment!
Our 6th and final tip is to visit the dentist at least twice a year. Regular cleanings and exams can prevent gum disease and other oral health problems, so it is important to complete these routine appointments. 
If you are in need of an appointment, chat with one of our friendly team members or dentists in Columbus, OH to schedule your appointment today! Call us at 614-443-4400 or contact us here.
Recent Posts
Archives
Categories