5 Tips To Improve Your Whole Family's Dental Health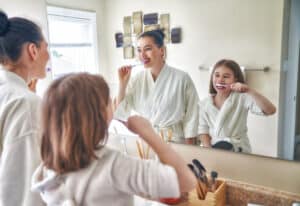 When it comes to taking care of your overall physical health, having excellent oral hygiene is a must. Poor dental care can lead to a variety of much bigger problems and diseases, which is why it's important to stay on top of your health. It's no secret that piquing your family's interest in this subject can be difficult. Whether it's your spouse, grandparents, or children, response to this topic can sometimes fall flat. But no worries, these tips are sure to put an end to the array of groans that can be heard at the mere mention of a dentist appointment or bedtime. Continue reading to learn how to not only improve your family's dental health, but also to get them excited about it.
Oral Care Doesn't Have To Be A Struggle
Who said getting your family to engage in their dental health has to be a struggle? Getting your family to take care of themselves will never be difficult as long as they are motivated by 2 factors. The first motivator should be results; ensure that your loved ones understand the health risks that come with poor oral hygiene. The second motivator is fun; don't make taking care of your teeth seem like a chore, make it a party that the whole family is invited to!
1.Get The Whole Family Involved
When it comes to good oral hygiene, no family member should be left behind, get your whole family involved in the journey for better hygiene. Making sure everyone is on the same page when it comes to your dental health habits can make it more enjoyable for everyone involved, the more the merrier! No one likes to be singled out, so if one or a few members of your family are struggling with certain aspects of the process, try making it a family activity and see your family's smile shine brighter than ever before.
2. Make It Fun
This tip is best for the parents that are struggling with getting their children to brush their teeth or floss. Brushing their teeth is something that must be done everyday, twice a day, whether they want to or not, so try not to make it seem like such a chore. Instead, try adding small things in the process to make it more enjoyable such as:
Let your kids pick their own fun toothbrush and toothpaste.
Have your kids brush their teeth to their favorite 2 minute song.
Turn brushing their teeth into a game.
Give them small incentives and rewards.
Make tooth brushing a group/family activity.
3. Use Fluoride Toothpaste
What you brush your teeth with is just as important as how often you brush. Using fluoride toothpaste is a must for everyone in your household. Toothpastes that contain fluoride help prevent tooth decay. Plaque that accumulates on your teeth throughout the day can break down your enamel, which is why it is important to not only brush your teeth twice a day, but brush your teeth with fluoride toothpaste, to strengthen your enamel and prevent cavities. Most, if not all, of your favorite oral health brands sell fluoride toothpaste in your local store!
4. Routine Is Key
When it comes to changing any habits or patterns in your life, you must establish a routine or it will fail 9 times out of 10; dental health habits are no exception. It's important to come up with a game plan on how to tackle your oral health and stick to it everyday, no exceptions. After a while, it will eventually become second nature and you'll no longer have a fight when it's time for everyone to brush their teeth or head to the dentist because they'll already know it's coming.
5. Make The Dentist A Family Activity
It's no secret that some people, kids and adults alike, drag their feet when it's time to head to the dentist. So, why not make it enjoyable for everyone, or at the very least, try to make it a more relaxing experience by making it a family activity? Try to schedule the family's dentist appointments on the same day, and if you have a big family then try scheduling a few at a time, that way no one is ever alone.
How To Schedule Your Family Trip To The Dentist
2023 is in full swing and there's no time like the present to get your family excited about their oral health and make sure they have the smile that they desire. You can begin this journey by scheduling your first family dentist appointment of the year to ensure that everything is in order and to complete the first cleaning of 2023.
Kick off the year right, call or text us to speak with a member of our staff at 614-443-4400, or schedule an appointment online.
Recent Posts
Archives
Categories