Mea
Scheduling Coordinator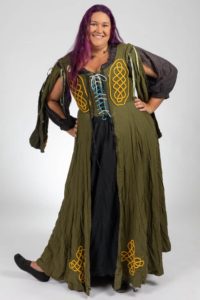 Favorite Quote:
"When things get tough, this is what you should do: Make good art. I'm serious. Husband runs off with a politician -- make good art. Leg crushed and then eaten by a mutated boa constrictor -- make good art. IRS on your trail -- make good art. Cat exploded -- make good art. Someone on the Internet thinks what you're doing is stupid or evil or it's all been done before -- make good art." - Neil Gaiman
Interests:
Reading
Drinking tea
Creating art
Mea grew up outside of Cincinnati, and after attending Xavier University, she moved to southern California where she met her husband. She moved her husband, 10-year-old son, and three cats to Columbus recently, and is enjoying being closer to her extended family.
Mea enjoys participating in local community art groups, and has helped create multiple large-scale art projects that have been displayed at local events. She also creates hand-stitched costumes and unique outfits for events ranging from Renaissance fairs to Burning Man.
In her spare time, you can usually find Mea reading a good book with a nice hot cup of tea close at hand and a cat (or two) on her lap.
Our Doctors

Our Hygienists

Our Dental Assistants

Our Business Team