Keeping Ohio's Kids Warm with 'Coats 4 Children'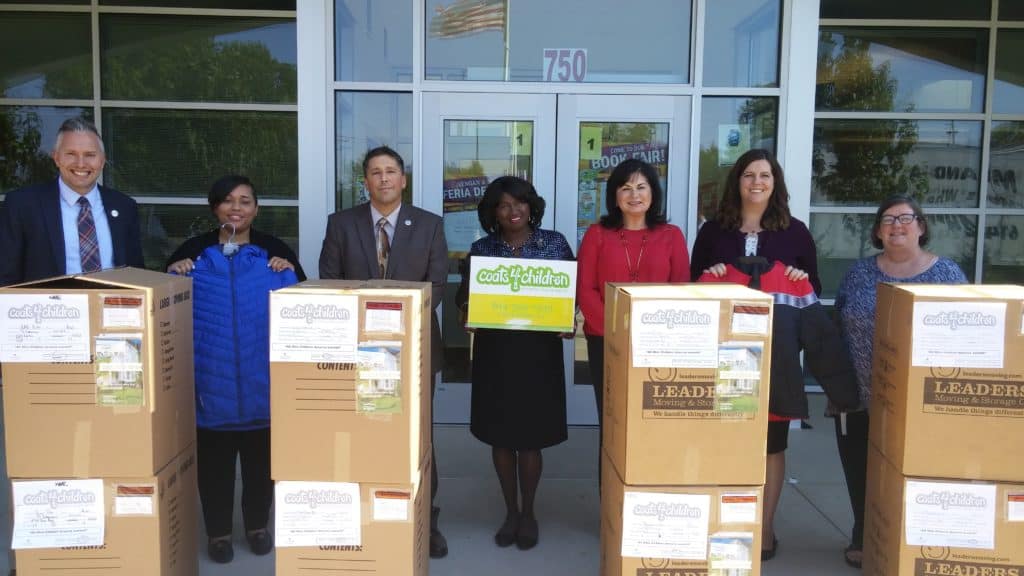 "All Ohio children deserve warmth." That's the motto of Coats 4 Children, a local charity that provides warm winter jackets to central Ohio children. Merion Village Dental has been a proud supporter of Coats 4 Children for several years and – as the weather turns colder – would like to help spread further awareness of this terrific cause.
Executive Director & Founder Beverly Robinson was inspired to start Coats 4 Children after she and her husband Kevin returned from a mission trip to Puebla, Mexico, eleven years ago with a renewed sense of how families struggle.
Remembering her childhood of two working parents who sometimes struggled to make ends meet, she began to look for ways to help here in Ohio. Beverly chose to focus on outerwear, because a coat can often be the most expensive item in a child's wardrobe.
We recently spoke with Beverly to find out more about the charity and to spread the word to others willing to help keep Central Ohio's children warm this winter.
Coats 4 Children does a wonderful job of bringing the community together. How is that accomplished?
Beverly: Coats 4 Children has developed various community partnerships, therefore, utilizing the concept of "community serving community." The concentration was on identifying the locations of our smallest citizens.
As a society we are each accountable to search out those in need who cannot speak for themselves. By involving Schools, Head Starts, organizations, programs, projects, clinics, shelters, county agencies, places of worship, and TV, Radio Stations, and Newspapers all work in synchrony to fulfill the purpose of our mission.
Are there specifics on what kind of donations you can receive?
Beverly: Coats 4 Children only donates new coats. Therefore, Coats 4 Children receives only new coats to be donated or financial donations that enable Coats 4 Children to purchase new coats for our Ohio children.
Are there any upcoming events for Coats 4 Children?
Beverly: On November 12th, 2016, Coats 4 Children will host the annual Volunteer Reception at 47 Hall St. in Powell at 6:00pm. This is a free event and all are welcome. Come see what we do and how being 100% volunteers can have a positive impact for our Ohio children.
How can people help the charity? Are there ways other than donating new coats?
Beverly: Anyone can sponsor a company or small group new coat drive. We are always happy to receive new coats and financial donations. We accept sizes 6 to 18/20 for boys and girls. Coats 4 Children is a 501 ( C ) (3) – so your gift is tax deductible. Coats 4 Children is Power Philanthropy with the Columbus Foundation, and we are always looking for volunteers who can help preparing deliveries.
How can corporations or other organizations help?
Beverly: Organizations partner with Coats 4 Children by having a New Coat Drive for the organization members to become engaged in keeping Ohio's children warm. They may also group volunteer at the Coats 4 Children's many events. Last year a local company donated to Coats 4 Children through their Blue Jean Friday Fund for Charity. Another way to get involved is to invite C4C to your employee community engagement fair.
We're also proud to have you as one of our patients! How long have you been a patient, and how did you discover Merion Village Dental?
Beverly: Our family has been patients for 15 years. We discovered Merion Village Dental through good recommendations from fellow firefighter friends of my husband, Kevin.
What's kept you coming back for your dental care needs?
Beverly: The first class treatment and outstanding service. The entire team shows attention to detail, especially where Dr. J is concerned. He cares about our Ohio children. We love the family atmosphere at Merion Village Dental!
Is there anything else you'd like to include about the charity?
Beverly: The Coats 4 Children Community partnered with New Hope Church Club 45 to provide warmth to 11 Columbus Public Schools. Coats 4 Children donated to and through a total of 20 Columbus Public Schools in 2015 and 15 in 2014, making it a total of 35 schools within the last two years. President Baker of CPS was awarded a proclamation for the Nov. 17 donation at the Columbus City School Board Meeting.
In 2015, Coats 4 Children donated to and through 7 school districts, 7 youth programs, and 4 places of worship.
Join us in supporting Central Ohio's children this winter through the Coats 4 Children charity. You can find out more about their mission at www.coats4children.org.
Recent Posts
Archives
Categories