Dentist by day, duck devotee by night.
More than five years ago, Dr. Vesha's obsession with ducks began. It has since morphed into a hobby that brings entertainment to Merion Village Dental friends, family and patients alike.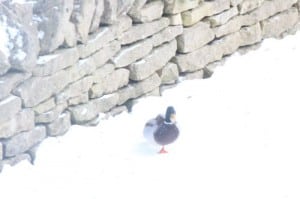 In January of 2009, a flock of ahas platyrhynchos (commonly known as the mallard or wild duck, and notorious for migrating during the winter months) descended on the home of Dr. and Mrs. Vesha. En route from Canada, these traveling birds could sense Dr. Vesha's kind heart from the sky and, before long, those lucky ducks were receiving mallard-friendly cuisine, courtesy of Dr. V.
Depending on the weather, there were hundreds of visiting ducks at any given time. But one wildling stood out from the rest. A leg short of a pair, Hoppy became a point of fascination for Dr. Vesha.
Year after year, Hoppy returned with his flock in January, only to leave the following month to return to Canada. But last year, when the wild ducks came, there was no sign of Hoppy.
"I thought that his disability finally caught up with him, and he fell victim to a predator," lamented Dr. Vesha.
Fast forward twelve months to two weeks ago, while Dr. Vesha was enjoying the weekend at home with his wife, Kathy. To his immeasurable joy and surprise, down flew Hoppy. But he wasn't flying solo; he had finally found a mate!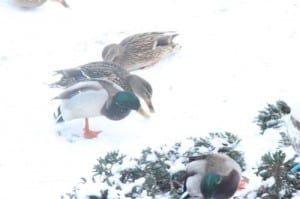 Dr. Vesha and the entire Merion Village Dental staff can't wait until next January to meet the continuation of the Hoppy blood line.
Recent Posts
Archives
Categories